Audio
Effetti
becomes
exclusive
distributor
for
Italy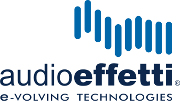 Audio Effetti Srl from Genoa, has been named the exclusive ImageCue™ distributor for Italy, San Marino and the Vatican.

Audio Effetti Srl is a leading distributor of light, video and audio products. Through the partnership, Audio Effetti expands its product portfolio.
With Audio Effetti, we increase the availability of ImageCue™ - the ultra-compact and intuitive media server - to offer unparalleled solutions to Lighting Designers in their projects.
"We are confident that ImageCue will succeed in the Italian market," says Marco Medica, Managing Director of Audio Effects. "I am very happy with this new collaboration as ImageCue meets the need for video display without the complexity of expensive media servers."